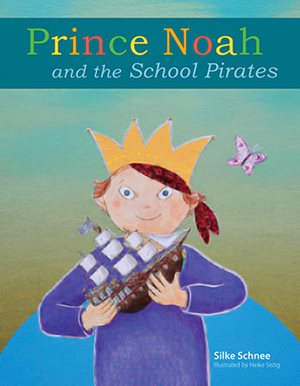 Prince Noah and the School Pirates is written by Silke Schnee and illustrated by Heike Sistig. It is published by Plough Publishing House.
I have just been aching to read a good picture story book and found a gem with this one. Prince Noah and the School Pirates is a story of learning and growing. Prince Noah and his peers go to school aboard five ships - one for boys, one for girls, one for those with sight limitations, one for those with one leg, and one for those who were a little slower to learn. Prince Noah himself has Down syndrome.
Aboard those ships, the children found they each reacted to learning in a different way and each one of them was valuable to the group, especially after they were captured by pirates.
What I love about this story is that those with disabilities and those without them are each given their place in the sun. We are all special and have special abilities, no matter the physical setbacks we might face.
The story is filled with learning, adventure, and words that remind each of us to be kind and considerate to one another, to encourage each other. I love that.
I can't leave this review without putting in a plug for the illustrator. Heike Sistig has drawn beautiful full color pictures that depict the story quite well. They are sure to capture the eye of the youngest readers/listeners.
*I received a copy of Prince Noah and the School Pirates in exchange for my honest opinion. My thoughts are my own.*