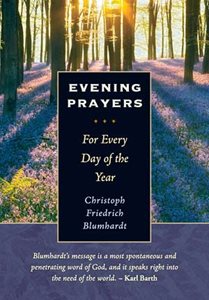 Evening Prayers for Every Day of the Year
is written by Christoph Friedrich Blumhardt and is published by Plough Publishing. Christoph Friedrich Blumhardt was born 1842 and, during his life, influenced great theologians such as Dietrich Bonhoeffer and Karl Barth, as well as many others. He died in 1919. This book of prayers was originally a set of prayers said during evening devotions with a group of Blumhardt's closest friends. The prayers were collected and put into book form only after his death, published in 1926 in Berlin.
I think I have found the perfect book for nighttime devotions. Currently, I read the Bible through in a year, and first thing each morning. I spend an hour in devotion and prayer time after reading the Bible. As for evenings before bed, I pray, but nothing else. The prayers in
Evening Prayers for Every Day of the Year
are divided into daily readings, and they follow a short reading of Scripture. The first day's reading, for January 1, relates to the Lord's Prayer (Matthew 6:9-10). The prayers are short enough to be used in the evening when I am tired, but are very poignant.
The prayers do not have to be the sum of your prayer life - in fact, they should NOT be. Rather, they can be used to augment what you already do and, perhaps, enrich your prayer life a little more. That is how I plan to use this book of prayers. It will be the catalyst that sets off my evening prayers and gets me going in the right direction.
*I received a copy of
Evening Prayers for Every Day of the Year
in exchange for my honest opinion.*