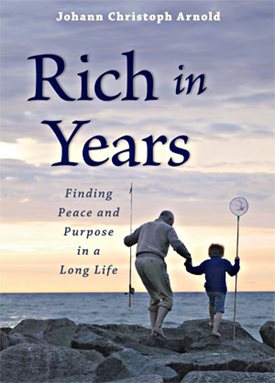 Rich in Years
is written by Johann Christoph Arnold and is published by The Plough Publishing House.
We are all getting older, and there's no denying that, Lord willing, we will one day be considered among the elderly. Are you ready? I have to admit that I am not. I am acclimating myself by spending time with widows and those older than me. I cherish those times and the this book is a reminder of why I enjoy the elder generation so much.
The question really is, however, how will we handle the changes that are coming our way - challenges to our way of life that can either bruise and crush us or strengthen our walk with the Lord?
Mr. Arnold has written a welcome reply to that question with
Rich in Years.
This book takes real life examples of some of the seniors whom he has known and illustrates for us lives that have made their marks in the world as souls willing to do and be whatever Christ desires. He has given me hope for a better ending to my life than my beginning.
This is a great book for anyone who is elderly now or is on their way to getting there - which means everyone. I loved it and I know you will too. Being old doesn't mean being stagnant. We can all find purpose and meaning in whatever stage and age God puts us.
* I received a copy of
Rich in Years
in exchange for my honest opinion. Opinions expressed are my own. *