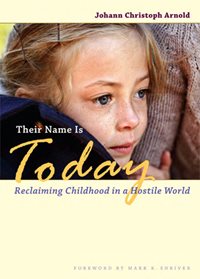 Their Name is Today
is written by Johann Christoph Arnold and is published by Plough.
If you are concerned about America and her future leaders, then you are not alone. Training leaders begins when those leaders are children, yet we sometimes forget that the little ones who often "get on our nerves" are even now in training. I have been discouraged in my parenting along with most every other parent. Let's face it: children can sometimes give us panic attacks!
Arnold reminds us that, yes, there really is hope for the children. Today is a scary time to be living, but that doesn't mean that we need to bury our heads in the sand. In
Their Name is Today
, Arnold not only gives practical advice to parents, but challenges all of us - teachers, parents, grandparents, concerned citizens - to step up to the plate and say "no" to a lot of which is the real threat to a healthy childhood. Technology, standardized testing, over-stimulation, pressure to get the best grades, marketing - it all blasts the kids too much and takes them away from that which a child really needs. Personal attention and time to be children.
I am passing my book to a teacher friend. Arnold has a great way of cutting through the mess of opinions and ideologies and gets straight to the heart of the matter. My friend will like that. Perhaps you have a friend who could use some of the same encouragement.
*I received a copy of
Their Name is Today
in exchange for my honest opinion.*