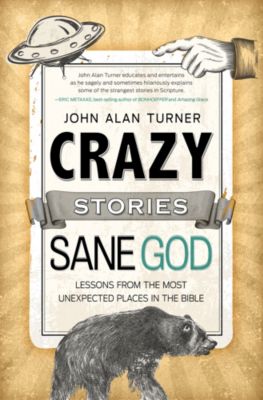 Crazy Stories Sane God
is written by John Alan Turner and is published by B&H Publishing Group.
I have to be honest. Whenever I see titles like the above, I tend to wonder if the author is writing about a cuddly, look-the-other-way God. You know what I'm talking about. John Alan Turner wrote a book about GOD - big, powerful, the God of the Bible. Yes, some of the stuff in the Bible is crazy. Yes, some of it is scary. And yes, a lot of the time, the stories don't seem to make sense. Turner doesn't really try to make a lot of sense out of it all. He just tries to help us to see the bigger picture.
The bigger picture is that God is God. He does some crazy things. People are people. We do some crazy things. Only God can make sense of it all.
I thoroughly enjoyed reading
Crazy Stories Sane God
and I think you will too. If you've ever wondered why some stories made the final cut when that final version was put together, you might want to give this book a good read through.
*I received a copy of
Crazy Stories Sane God
in exchange for my honest opinion.*