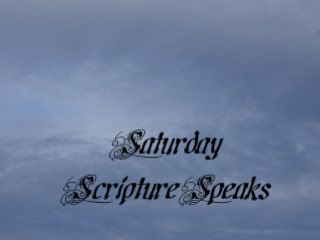 "It was revealed to them that they were not serving themselves but you, when they spoke of the things that have now been told you by those who have preached the gospel to you by the Holy Spirit sent from heaven. Even angels long to look into these things." 1 Peter 1:12 (NIV)
Angels are quite the topic these days from magazines, short stories, movies, and even first person accounts with the supernatural. This week, as I've read some "angel things" and pondered what I've read, I decided to use 1 Peter 1:12 as my Saturday Scripture Speaks reference.
Angels are heavenly beings created by God. The Bible has much to say about angels in the book of Revelation. Fallen angels are called demons. Satan is an angel who was created to worship God and was the angel of music. The Bible says that he was beautiful - don't be fooled into thinking Satan looks ugly and frightening. Sin looks beautiful to us when we're tempted, doesn't it? In the last days people will follow the anti-Christ because he will look beautiful too.
Throughout history, angels have appeared to man. Mary was visited by the angel Gabriel; so was Joseph, her husband. (Luke 1:26-38)
Angels appeared to Abraham. (Genesis 18:1-16; 22:11,15; 24:7)
Jacob met angels. (Genesis 32:1,2)
Jesus said, while hanging on the cross, that He could have called more than 12 legions of angels to rescue Him had He wished. (Matthew 26:53)
Angels are not to be worshiped. (Colossians 2:18)
Angels are curiously fascinated with the salvation God offers to man, as our passage in 1 Peter states.
In Luke 15:7, Jesus said, "I tell you that in the same way there will be more rejoicing in heaven over one sinner who repents than over ninety-nine righteous persons who do not need to repent." (NIV)
I believe angels still appear to people now and then. I read an interesting blog post written by a new believer who might have seen angels. Should you be on the fence concerning Christ, this
testimony
might inspire
you
to believe in the One who created the angels.